Wellingborough Bed & Breakfast / spare room
07734 687 111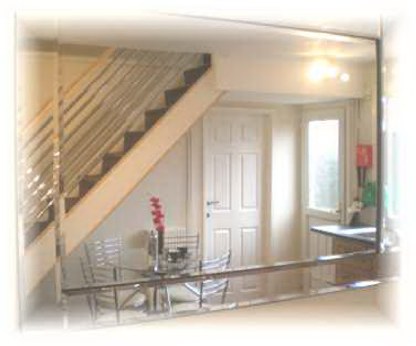 Wellingborough Bed & Breakfast Room
Based in Wellingborough, we offer great value rooms aimed
at contractors, working away from home. Cheap in terms of
price, but we aim to provide clean, warm, bright rooms with
use of Fridge, Freezer, Laundry Facilities etc.
Weekly Occupancy £ 160
4 - Weekly Occupancy £ 580
BOOKINGS
07734 687 111
Good value inexpensive rooms for contractors
Our guest rooms are a little more consistent than most spare rooms, we also provide
very fast WiFi, Ample parking for cars and vans - and most guests are medium term stay
so there is not an endless stream of strangers coming through the door.
Focused On Contractors
Cheap compared to Hotels
Kitchen & Laundry Facilities Included
Double bed, desk and flatscreen TV
Inexpensive, warm & quiet
ALL ROOMS ARE OZONE
FOGGED BETWEEN GUESTS
Offroad parking for cars & large vans
* All four rooms have double beds and double wardrobes
* Free fibre based WiFi - stream in HD with ease
* Tea / Coffee facilities in all rooms
* All rooms have desk and chair.
* TV with FreeView in all rooms
* Desks & Leather reclining chairs in all rooms
* Off road parking
* Cheap food shops nearby
* Very close to food outlets, fast food outlets, and wide choice of amenities - all within 500 Metres / Yards.
Checkout Time: Noon
Late checkout Time (upto 5pm) £25 extra
(please note emails DO get lost, please RING if you can)



Warm, stylish, clean and sensibly priced

Free WiFi - so bring your laptop




Unlike most of our competitors who will charge you from £5 an hour

to £10 a day, we offer you FAST free Fibre WiFi .




Thanks to regular bookings from our Friends at GrabTheTickets




7 Landor - offering above average, quality accommodation for people that require a clean, peaceful room in a quiet part of the town. To support guests that may be on shifts, rather than provide a breakfast at a set time, we operate self catering and permit use of the kitchen at all times by guests.
The accommodation includes unlimited free access to WiFi and coffee / tea making facilities are in all bedrooms. Additionally guests having a light breakfast are welcome to make use of the coffee/tea facilities in the reception area with our compliments.
The house has good, complimentary laundry facilities available with separate washing machine and tumble dryer - plus line drying available when the weather is suitable. Guests staying two or more nights are welcome to run a load of washing every other day through the machines with our compliments.
Within 5 minutes walk or 1 minutes drive, is a Chinese takeaway, a traditional fish and chip shop, a post office, chemist, bookmaker and a small supermarket.
During the week, you will be sharing a house with other quiet professional people, ensuring peace, privacy and a sound night's sleep. We regret that even for long-term stays, we are unable to offer accommodation to DSS, children or people with pets.
If you are after simple, warm cheap accommodation, give us a ring.
Most of our business users are returning guests or people arriving on recommendation from colleagues. Landor is the ideal "serviced let" for the traveling worker or consultant.
To ensure peace and quiet for business clients, we do not cater for children under 16 or pets during the week.
Ample parking at the rear of the building is approximately 30 seconds away. If it is raining when you arrive, telephone us from your car and we will greet you with an umbrella.
Like other B&B and self catering establishments, we do not offer facilities for ""friends of guests" so although you may invite a friend in for a drink and to use the loo if they have just driven you to us, other than that, only paying guests are permitted in the building with the exception of an occasional (one per week) visit of LESS than one hour which must be before 22:00 and must be quiet and respectful of other guests who may already be sleeping. If you wish to have someone stay longer, please discuss this with us and if we are not at capacity we may be able to charge an additional £40 per week for them to share the room with you.
Although we have found that our guests and cleaning staff are extremely decent people, we do advise you to keep ALL valuable items on your person and not leave them lying around. We cannot accept any responsibility for valuables - so please either do not bring them OR keep them on your person.
Perfect for SantaPod enthusiasts here for a full week - we are just over eight miles away - or about 10-15 minutes by car.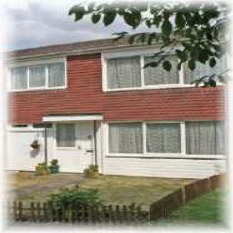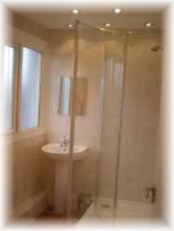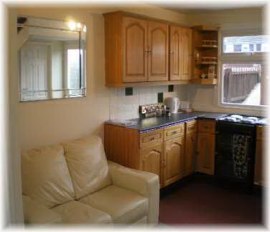 Please see
here
for our cancellation policy
Price includes use of laundry facilities, FAST WiFi, digital FreeView TV, and shared use of Kitchen Facilities.
Free drinks facilities also in each room. Guests need to provide their own "type" of milk however.
Guests also have one shelf allocated in the Fridge, one in the Freezer and a small amount of
cupboard space too. All other items (and ALL valuables) MUST be stored in the Guests own room.
Great Value Rooms
For Contractors
travellodge travel lodge
Please see
here
for our cancellation policy
B Wellingborough
With rooms like those shown below, why exactly, would you book anywhere
else - and no background piped-muzac anywhere either.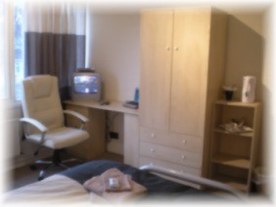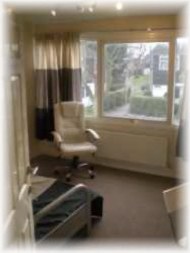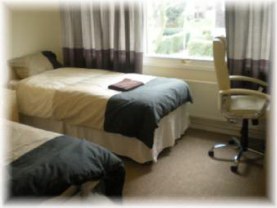 All rooms have locks on doors, and very comfortable seating. Good quality modern furniture with ample storage space is provided.




Switches and dimmers are gunmetal finish (not plastic) and most sockets are also metal finish.




The dimmer is by the side of your bed

One of the larger rooms, offering modern lighting, leather seating, coordinated linen, curtains & carpets and a general attention to detail.

All four of our letting rooms are intended for single occupancy only (other than an occasional guest if permission is sought in advance)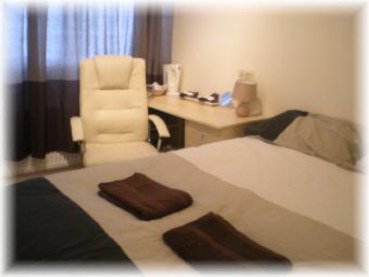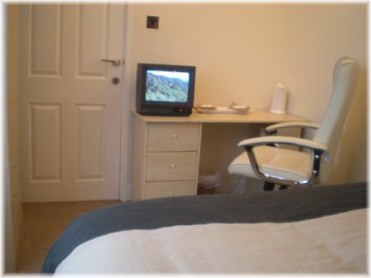 Note: Televisions have just been replaced with larger, digital units with FreeView included - unlike smaller units shown above.
Two further rooms offering substantially above average levels of comfort and facility. The room on the left is
our large double, that on the right is the small double. As can be seen from the photograph, even this
has enough space for a desk / dressing table, leather recliner and other pleasant touches not found in the
typical chain style travelodge hotel/motel establishment.
Don't forget that with us, the little things like FAST WiFi and use of Laundry Facilities are FREE
We try to offer a little more and charge a little less.
Bed and Breakfast For Contractors
Please note that sometimes email can be delivered late, if you need to make an enquiry for today
or tomorrow, we suggest you call by telephone if you can. Also, if you would like a telephone reply
please do remember to give us your number as folks often forget to give it to us. Many thanks.
No. 7 Landor - NN8 3SW
This will bring you close to the front of the Property.
We are about 25 seconds from the road. Please
ask for more directions if you would like them.